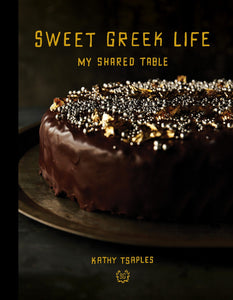 Sweet Greek Life: My Shared Table
Regular price
Sale price
$33.53
Tax included.
---
Food for me is the essence of life and life shared with family and friends is beautiful. Food in general brings people together - it's part of the glue that binds society. Being Greek is about celebrating life with the ones we love. It's about spreading the table with delicious dishes bringing everyone together, feasting, laughing, drinking, listening to music, singing and dancing. Treasured moments to become lifelong treasured memories.

What I have come to realise over the last few years, especially since setting up the "Sweet Greek Shop", is that cooking fulfils those basic needs we all have - the need to create, contribute, share and love. For me, this encapsulates the essence of cooking something special for the ones we love. It's the using of our own hands to make something out of simple, honest ingredients, something prepared not for sustenance or financial gain, but purely for the purpose of bringing warmth and happiness, however small, to another person's life.

Family, life, my friends, their good health and happiness, my culture and heritage are all the things that matter to me. It's respecting the legacy that our parents have left us and passing it onto future generations.

The recipes that I have chosen to include in this book hold a lot of meaning for me. Some, are more traditional, others are more simple, and some are from my travels in Greece.

All the dishes, apart from being delicious are simple, pragmatic and achievable in your own kitchen. Everyone relates to food based on their own experiences and its these experiences that create treasured memories and is what life is all about. Happiness is where the heart is, and the heartbeat of my home is the kitchen.

About the Author

Kathy Tsaples sees cooking as a story about maintaining and adapting her Greek heritage.

Her parents came from the Thessaly region, her mother from a village at the foot of Mount Olympus, said to be the home of the gods.